LaunchDarkly raises $2.6 Million for feature flags as a service
I'm thrilled to announce that we have raised .6 million dollars to advance LaunchDarkly's mission of helping software teams deliver better software, faster. Our goal is to allow software teams to deliver, measure and control their features using LaunchDarkly's continuous delivery platform. LaunchDarkly feature flags as a service gives every software team the "superpowers" of the engineering teams at Facebook, Amazon, and LinkedIn.
It's been a fun year for John, my co-founder, and me since we started as two college friends with an idea in John's basement. We've talked to developers and product managers at software teams, iterated on their feedback, and now have happy customers in private beta. As product and developers ourselves, nothing feels better than having customers like Apiary and Flite go live in production with us! Of course, we couldn't have gotten this far without our two incredible engineers, Patrick Kaeding and Alexis Georges.

We're looking forward to expanding our team and being able to support more customers. Our funding will allow us to ourselves move faster by bringing on additional new hires in engineering, marketing, and developer evangelism. If you're interested, our job listings are here.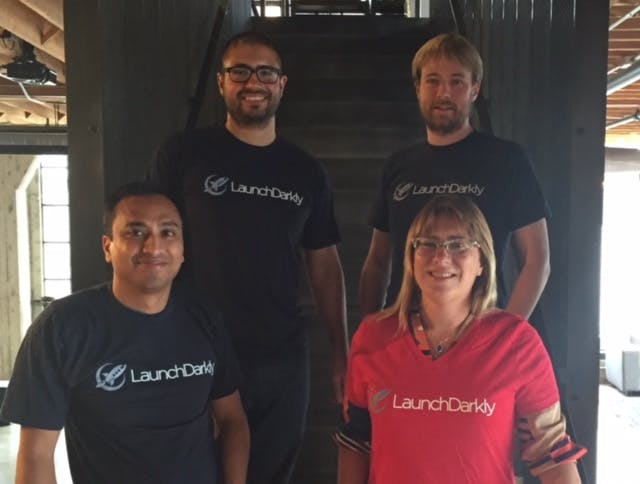 Our investors (SoftTech VC, Bloomberg Beta, 500 Startups, Cervin Ventures and angels) have founded software companies, built products, and had a deep understanding of the problem we are solving. LaunchDarkly helps product developers iterate faster, produce higher quality products, and deliver the right feature to the right person at the right time. Some investors (Nancy Ramamurthi, Will Aldrich, Andy Chou, Josh Wold, Paul Loomis, Ravi Chandrasekaran, Giles Goodwin) had worked with us at TripIt, Concur, Epicentric, Vignette, Atlassian, and Coverity. Others like Sean Byrnes, Andy McLoughlin, Dave Johnson, Erik Eccles, Patrick Linskey, Matt Cutler, Neeraj Gupta, and Preetish Nijhawan had founded great companies like Flurry, Huddle, PhoneGap, Versly, Collaborate.com, Systems in Motion, and Akamai. Dave McClure introduced me to lean startups when he invited me to a LeanStartup talk Eric Ries and Steve Blank gave in 2008. Dave said "I'm pretty sure Edith is a Sith Lord on the side -- either that, or her co-founder is Darth Vader. In any case, now founders don't have to turn to the Dark Side to get shit out the door faster. They just need to Let Go and use LaunchDarkly."
We had a happy hour office warming at HeavyBit for our investors, which was a blast, as our investors have so many lessons learned and useful advice. Apiary, one of our customers, is located at Heavybit, and Andy McLoughlin, our investor, is also an investor in Apiary. So Jakub Nestril, Apiary CEO, joined in the fun, and soon he and Matt Cutler were deep in discussion about "crossing the chasm", complete with diagrams. But James Cham from Bloomberg Beta, said the most important phrase an investor can ever say. We're a small startup, so to get the refreshments, John and I had walked two blocks over to Trader Joe's for wine, beer, cheese, crackers and olives. When happy hour was winding down, James looked around at the dirty dishes and leftovers, and said "How can I help you?" With everyone helping, we'd cleaned up in a flash.
We are so happy that we have such a stellar, thoughtful, experienced, and helpful team of investors and advisors helping us move forward, faster.
LAUNCHDARKLY HELPS YOU BUILD BETTER SOFTWARE FASTER WITH FEATURE FLAGS AS A SERVICE. START YOUR FREE TRIAL NOW.