Using Feature Management to Drive Innovation in Regulated Industries
At LaunchDarkly, we firmly believe that the best learnings and insights come from our customers. That's why we're always working to find new ways to connect our customers across the globe, so we can learn more about how they're using our product and continue to build community.
Recently, we hosted a brunch-and-learn event with customers, including Tabcorp, which is Australia's largest gambling company, and the Bank of New Zealand to discuss how Asia-Pacific companies are using feature management and LaunchDarkly to drive business. Our CEO and co-founder, Edith Harbaugh, was joined by Graeme McCormick, Head of Digital at Tabcorp, and Mate Antunovic, Full Stack Developer at Bank of New Zealand.
What followed was a discussion around primary use cases for feature management and the benefits Tabcorp and Bank of New Zealand have enjoyed using LaunchDarkly. Let's jump into the highlights, or watch the full presentation below.

Balancing speed and security
At first glance, it may be difficult to find the common thread across Tabcorp, the Bank of New Zealand, and feature flags and feature management. But on further investigation, it becomes clear that both organizations best serve their customers when they can operate quickly—even in their respective highly-regulated industries. Along with stringent industry requirements, both Tabcorp and Bank of New Zealand have to contend with regional and jurisdiction-specific approvals, which have a direct impact on rollout timing. 
"In Queensland, for example, we may have an 18-week approval cycle to release actual software to our customers, which includes third-party software testing by the local government," explains Tabcorp's Graeme. "But if we want to roll new features out to customers in a different region, it can become very complicated. What we needed was a tool to release features independently across jurisdictions."
Leveraging LaunchDarkly
For both Graeme and Mate's teams, striking the balance between speed and flexibility is paramount. Maintaining control while being held to stringent local and federal oversight can come with a significant amount of stress. But thanks to the LaunchDarkly feature flagging platform, both Tabcorp and Bank of New Zealand have been able to smoothly deliver new functionality to customers without the stress of traditional release patterns or drawing the ire of regulatory bodies.
But that was just the beginning.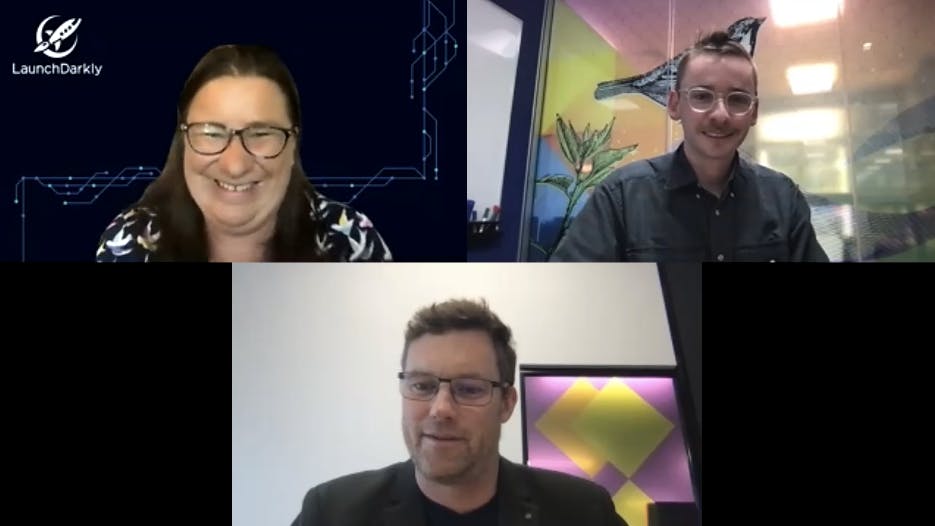 The upper hand on in-house development
Using feature management in highly-regulated industries wasn't the only topic of conversation during our event. Edith, Graeme, and Mate also discussed the challenges of building in-house feature management solutions. Similar to the process of developing and releasing new features, getting a new tool reviewed and approved for use can likewise be difficult. Furthermore, building a solution as well-architected as LaunchDarkly had the potential to place unnecessary strain on internal dev teams.
As Mate mentions, "I recently read a developers' creed that stated, 'We do these things not because they're easy, but because we thought they would be easy.'"
"When something is architected and works so eloquently as LaunchDarkly," Graeme says,. "the question becomes, 'Do we need to build this?' Leave it to the experts and, let's focus on what we're trying to get done. I get that question all the time. But in many cases, the tool you buy is better than what you could build and maintain in house." 
For more highlights from this conversation, check out the full recording here.