Recap: Gene Kim's Thoughts on DevOps in 2021
Following an extraordinarily difficult year, these early months of 2021 are producing a strong urge to seek answers about the future. 
In terms of good news, some of the brightest spots from the world of software development that emerged in 2020—including the acceleration of digital transformation at many organizations—are sure to live on this year. And while it'd be tough to really rattle off accurate predictions about what 2021 has in store, when it comes to DevOps, there are some educated guesses. 
That was one of the topics of focus when our VP of Platform and Partnerships, Adam Zimman, recently spoke with author, researcher, and the founder of IT Revolution, Gene Kim, for a recent webinar. 
"Like most organizations, we all entered 2020 with a plan in January and all those plans were completely upended by a horrendous global pandemic and the economic downturn that happened afterwards," Gene said. "And yet, I think it has been illuminating in terms of showing what really technology can do in a time of incredible crisis."
In this post, we'll recap Gene's perspective on the biggest changes that sprung from 2020 and highlight areas of focus for the rest of this year. And stay tuned, as we'll be posting recaps of other portions of this conversation between Gene and Adam in the coming weeks.
The Digital Transformation Acceleration of 2020
Despite so many companies' plans getting flipped in March 2020, the ripple effects of the pandemic significantly sped up digital transformation at both the organizational and industry levels, which will have long-lasting effects.
As the demand for online services skyrocketed in 2020, organizations had to figure out how to keep pace. In fact, executives polled in a McKinsey & Company survey, published in Oct. 2020, said their companies' response to Covid-19-related changes— whether it was remote collaboration or adopting advanced technologies—was faster than they ever imagined; in fact, upwards of 40 times quicker in some cases. 
At LaunchDarkly, Adam reflected on the firsthand changes he saw, both within our organization and with customers. "It was so fascinating to us, as we were going through our own trials and tribulations operating a business in the global pandemic," he said, "to see how conversations that we'd had, even in February… the tone changed so significantly with those organizations where they were initially telling us that they were really not looking for any drastic plans in 2020, with little expectation of either updating their delivery pipeline or any major changes. What we saw, starting in the April timeframe, was all of a sudden, folks started to really take a look and say, 'We need to know how quickly you can help us move forward.'"
Through the virtual DevOps Enterprise Summit in 2020, Gene said he was able to hear a lot of stories from high-performing organizations about how they had weathered the pandemic in ways they never previously thought possible.
"What was amazing to me is just seeing to what extent the technology was mobilized in service of helping organizations achieve their mission in service of customers," Gene said.
As one example, Gene shared the story of Patrick Eltridge, the chief operating officer of Nationwide—a British mutual financial institution—who reflected during a presentation in June 2020 at the virtual DevOps Enterprise Summit that in order to move forward, the company essentially had to completely rethink the way it operated.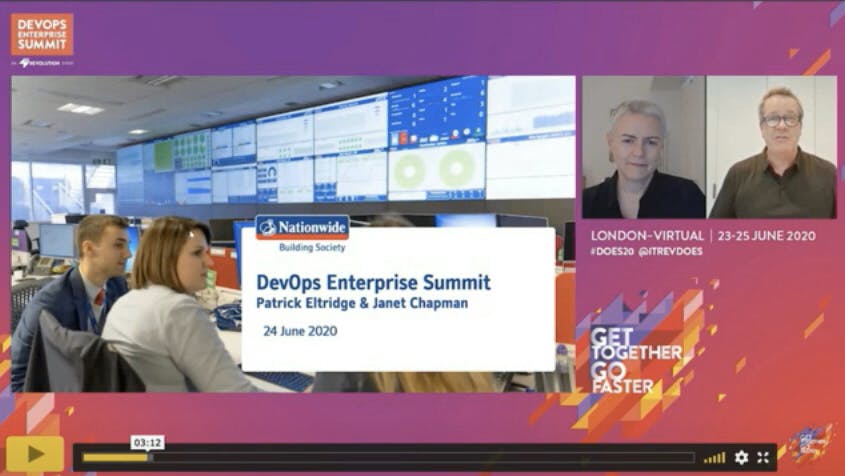 (Image courtesy of DevOps Enterprise Summit)
"[Eltridge] said that they were able to do things in weeks that normally would have required years throughout the entire enterprise," Gene said, "and they were finding that because at a time of genuine crisis, the policies, procedures, and way we've always done things were willing to be thrown out the window in service of other stakeholders and customers who desperately needed them to talk about what is possible—even in financial organizations that are often thought of being heavily encumbered by regulations and rules.
"The agility that was unlocked throughout the Nationwide enterprise I think won't end when COVID ends. Instead, that will change how work is performed."
What's on the Horizon for DevOps in 2021

Looking ahead to the coming months, Gene shared a few things he's watching in the world of DevOps.
The first was some of the stories that emerged from "The 2020 State of the Octoverse" report, which was released in December by GitHub. Amongst the report's findings, Gene pointed to the notion that not everyone is thriving in the new, fully-distributed teams landscape. We know the pandemic has put a huge strain on working families, for instance, but things seem to be hitting those with more responsibilities within organizations especially hard. 
"You can actually see that the brunt of working from home is being borne by leaders," Gene said. "Essentially, they are often on endless Zoom calls that go from dawn to dusk. There's a 20% increase in the number of hours being worked. I think that just shows that there's a coordination cost that is incurred. Productivity isn't free. Someone has to pay that cost."
And even though people are working longer hours, they're apparently still turning to software development to wind down. That's because the Octoverse report found that while developers do stop working for their day jobs on holidays and weekends, many of them still hop into open source projects to unwind, as activity spikes during those times. "Everyone needs an outlet in these wildly different times when we're all stuck working from home," Gene said.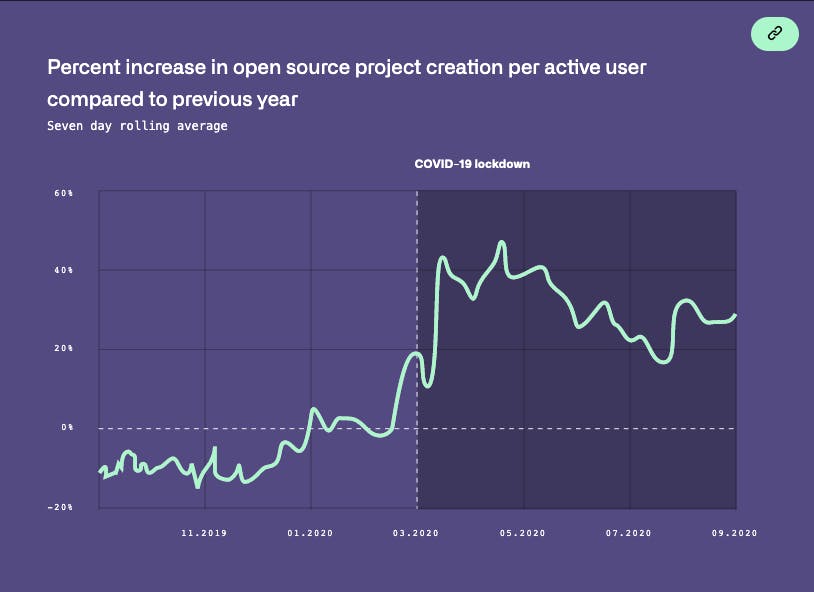 (Image courtesy of The 2020 State of the Octoverse)
Another thing Gene highlighted as an imperative for the coming months is boosting security in the wake of the SolarWinds hack. "You have to secure the CI and CD pipeline or, for that matter, anything that goes into production," he said. "What we're now seeing is a wave of attacks that are exploiting those potential vulnerabilities, whether it's SolarWinds, the recent Stack Overflow incident… We have to figure out a way to make sure that we're really achieving the promise that automated deployments are made more secure than the old, bad way." 
Making security more of a priority earlier in the development process is a sentiment Adam echoed as well. "Having security be something that is part of your development lifecycle as opposed to something that you do on the tail end, post-release, or even make the burden of the operations team," he said. "I think that this is something that we're also seeing from a trend perspective, right? This is why so many folks are talking to us about this notion of elimination of risk with a feature management platform."
As for whether or not we'll be getting back to "normal" sometime this year, Gene said China's reopening could provide some insight into how things might look like at organizations in the future once the pandemic subsides for so much of the rest of the world.
"There's plenty of evidence that says whatever the new normal is, it's certainly not going to look like the old normal," he said.
Hear Gene's thoughts on managing technical debt, driving change at organizations, and the fear of deployments in our webinar, "Fireside Chat: Gene Kim and Adam Zimman - The State of DevOps in 2021."