Reflections on Black History Month at LaunchDarkly
It's Black History Month! February is an annual celebration of Black Excellence and the achievements of African Americans recognizing their central role in U.S. history. Carter Godwin Woodson, an historian, journalist and educator, known as "the father of black history," first established Negro History Week in 1926, in part, to address that and especially to ensure that black school children learned the history of their people. 
President Gerald Ford officially recognized Black History Month in 1976, calling for all Americans to "seize the opportunity to honor the too-often neglected accomplishments of Black Americans in every area of endeavor throughout our history." Other countries around the world, including Canada and the United Kingdom, also devote a month to celebrating black history.
In the spirit of education and community engagement, LaunchDarkly has spent February putting on a series of events to celebrate. In this post, I'll recap some of those activities and talk a bit about what the experience means to me.
Giving back locally
Black Girls Code is a Bay Area-based organization that provides young girls of color the opportunity to learn in-demand skills in careers based around science, technology, engineering, and mathematics (STEM). Hoping to fill the gaping hole for women in technology, Black Girls Code offers an introduction to coding and programming to a new generation of future technological innovators.
LaunchDarkly has committed a donation to Black Girls Code and our staff will also be participating in volunteering opportunities, mentorship, internships, and career building with the organization throughout the year. 
Highlighting historical facts and figures
Throughout February, LaunchDarkly employees have been creating and sharing internally nearly daily doses of black historical facts and figures (illustrated below) that have shaped and continue to transform our world for good. The project has also helped to raise awareness around some of the discrimination and stereotypes that were so prevalent in the past, and yet unfortunately still find ways of popping up today.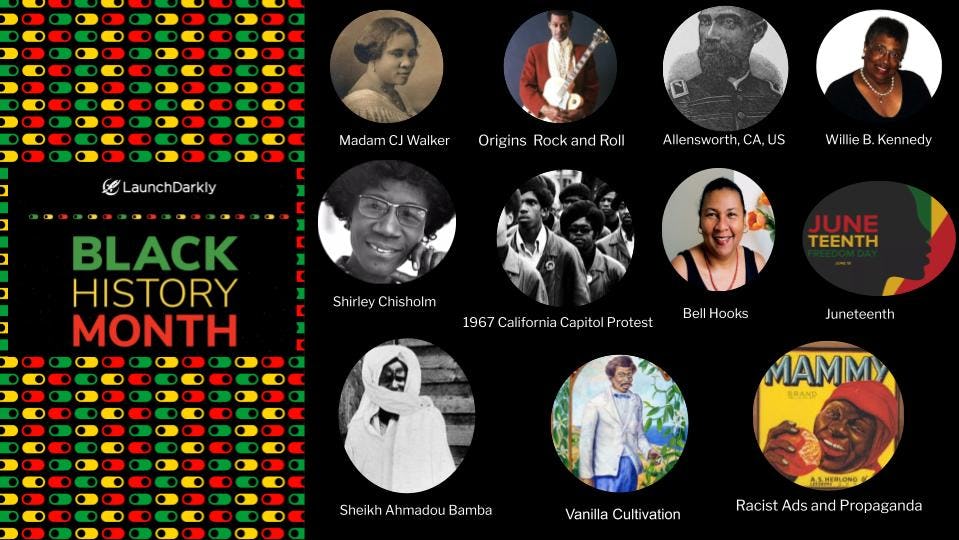 Black authors book giveaway
On Twitter, we've been hosting a weekly giveaway which spotlights tech-focused books written by black authors. Each week, anyone who responds to our tweet about the series is entered to win one of five available copies of the book we're highlighting.
Virtual movie series
Throughout Black History Month, we have showcased movies that highlight struggles and accomplishments throughout black history. We then follow up with a short discussion via Slack on the impacts of the films. Here are some of the movies we've spotlighted:
13th is a 2016 American documentary film which explores the "intersection of race, justice, and mass incarceration in the United States," according to the New York Times; it is titled after the Thirteenth Amendment to the United States Constitution, which was adopted in 1865, and abolished slavery throughout the U.S. and also ended involuntary servitude except as a punishment for conviction of a crime.
What Happened, Miss Simone? is a 2015 American biographical documentary about famed singer and civil rights activist, Nina Simone. 
Becoming is a 2020 documentary about the former First Lady of the United States, Michelle Obama, which is partly based on her bestselling memoir of the same name.
Thoughts on Black History Month in 2021 
In conclusion, Black History Month at LaunchDarkly has been a success in many ways, by sharing education, perspective, and awareness of the racial disparities in our culture. 
Personally, Black History Month is a reminder that people who look like me have significantly impacted the world. It encourages me to be resilient and make my mark on an industry where I am underrepresented. 
It's about giving thanks and showing gratitude to my ancestors, who went through a tremendous amount of struggle, sacrifice, and persecution. Because of their struggle, I am grateful and value my rights today. I want to make a difference in some way by representing their legacies to the best of my ability and making sure that I open the way for other minority leaders to follow.
It's not only black history, it's a fundamental part of American history. So, at this time of year and beyond, I challenge everyone, including myself, to be inspired, be mindful and be thoughtful about how you as a leader will inspire the next generation and create an even bigger world of possibilities. 
Harriet Tubman, American abolitionist and political activist, once said "Every great Dream begins with a dreamer. Always remember, you have within you the strength, the patience, and the passion to reach for the stars to change the world." 
Thank you for listening.
If you are interested in joining the LaunchDarkly team, check out our open opportunities.