Sync User Cohorts from Amplitude into LaunchDarkly
LaunchDarkly has partnered with Amplitude to make delivering powerful customer experiences seamless across platforms.
Data-minded development teams know that one of the best ways to deliver an incredible product is using precise behavioral cohorts to tailor experiences optimized for their customers' needs. At LaunchDarkly we understand this well, which is why we are excited to announce Synced Segments for LaunchDarkly, available for early access.
In partnership with Amplitude, who recently released their Predictive Cohorts for creating intelligent user segments, LaunchDarkly is making it easier to manage segments across platforms. By syncing segments with LaunchDarkly, teams can import user cohorts directly from Amplitude and deliver custom experiences to those users with feature flags.
Synced Segments automatically synchronize changes in segment membership for feature targeting, so teams can create user experiences based on business logic without having to replicate and maintain segments across systems. No more manually importing your target audiences or worrying about keeping them up-to-date for feature flagging.
How Synced Segments work
Data scientists, product managers, and developers can define user cohort requirements from within their everyday Amplitude dashboards, create a synced cohort for LaunchDarkly targeting, and launch their features to only those targeted customers.
Something that used to require coordination, handoffs, and passing around CSV files every week, is now just a few steps:
Create a cohort of users in Amplitude using your existing product metrics and behavior patterns.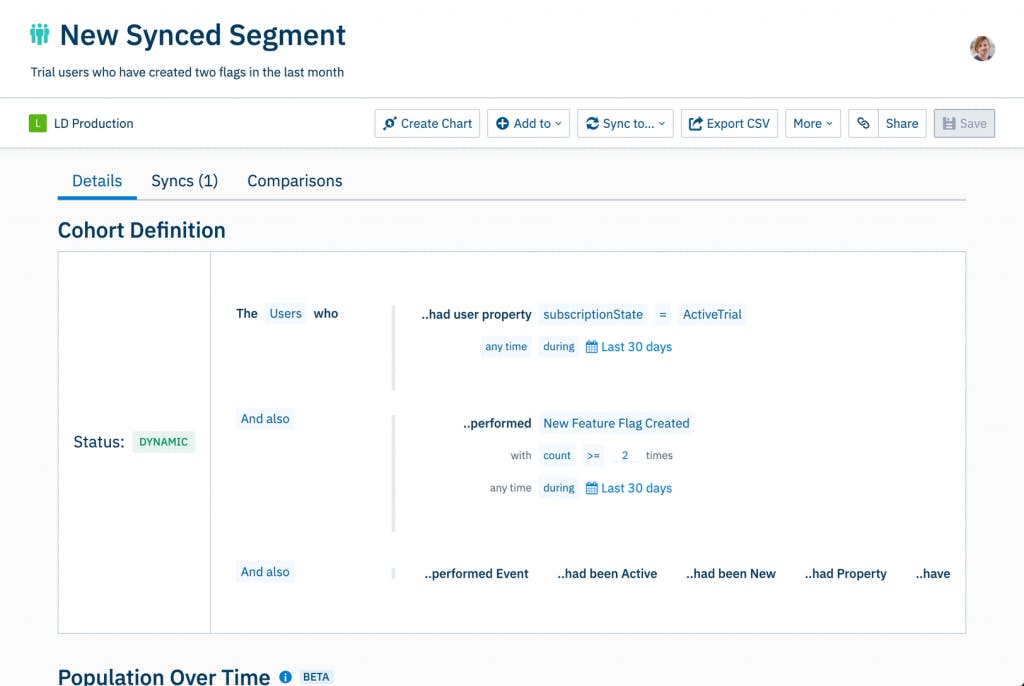 Link an Amplitude cohort to LaunchDarkly.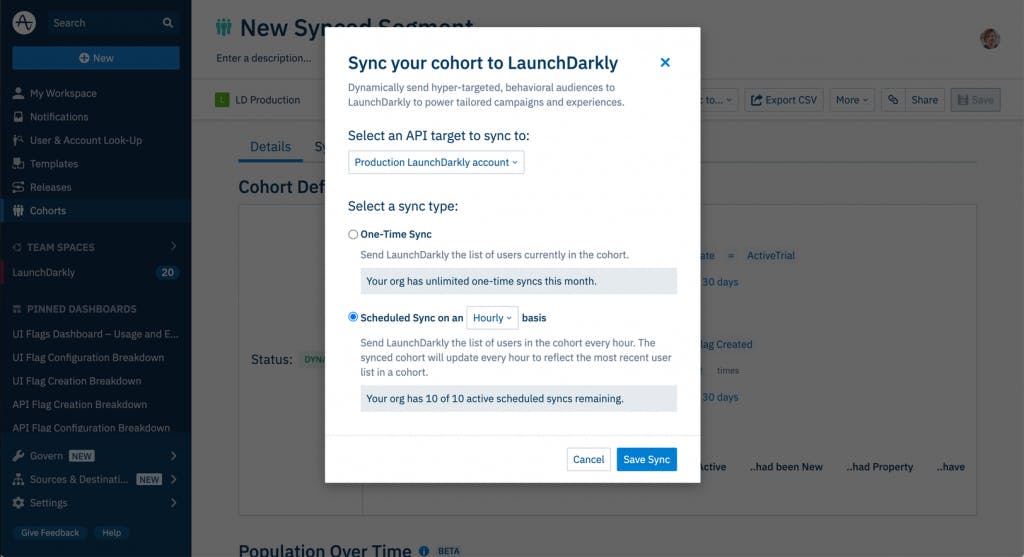 Your Amplitude cohort appears in LaunchDarkly as a Synced Segment in your segments list.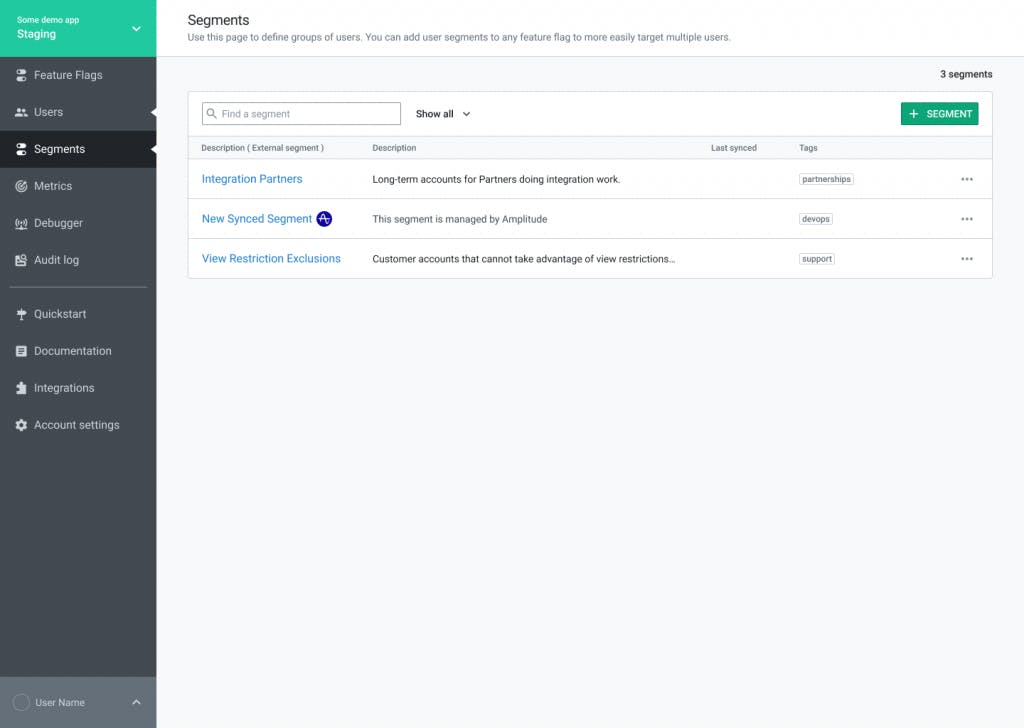 Your segment's user list syncs hourly as new users qualify based on your defined business logic.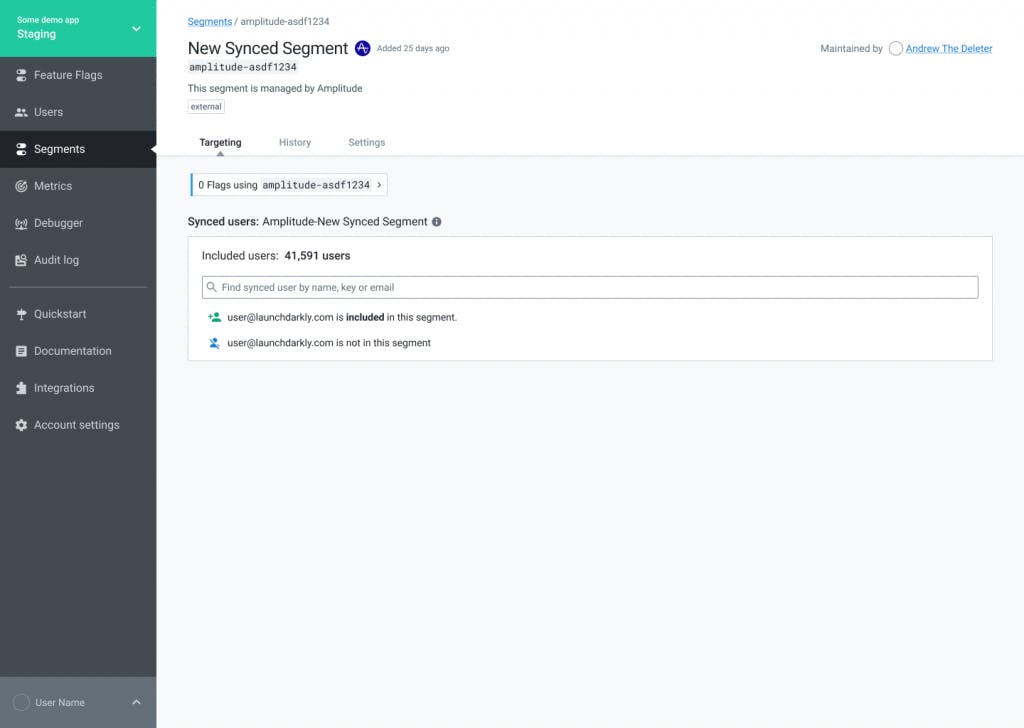 Add your Synced Segment as a targeting rule on feature flags to target the right users automatically.

What's next
This is only the beginning of LaunchDarkly as a destination for data tools. We are working to integrate with other platforms to allow customers to import external segments from their tools of choice. Seamless customer targeting is top of mind in our mission to empower all teams to deliver and control their software.
How to get started with Synced Segments
Synced Segments are available to all LaunchDarkly customers as an Early Access offering. Sign up for early access today to get started.
To learn more about Synced Segments, read our technical documentation, and feel free to email our Product Team at feedback@launchdarkly.com with your comments and suggestions.