What Feature Flagging Management and a 4x Super Bowl Champion have in common
Recently our investors, SoftTechVC, had a panel with professional football players on "unleashing the elite" - how professional athletes need grit, determination, hustle and mental toughness to push themselves and their teams to the next level. The panel with was captivating and amazing. The pros talked about their unrelenting training schedules - the long hours not just working out, but studying game films and memorizing plays. They talked about sacrificing college parties, time with friends, time with their families, as well as injuries. Was the sacrifice worth it? Yes, they said. They were providing a better future for themselves and their families.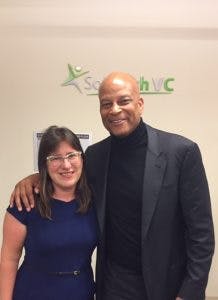 After the panel, a friendly guy named Ronnie introduced himself and asked me about software development trends. I'd graduated from Harvey Mudd College, statistically amongst the worst football teams in the country, and Ronnie had graduated from USC as an All-American. Ronnie said my eyes lit up as we talked about whether software would soon be layers of AI building on AI. I said just as 20 years ago players didn't have iPads to watch game film on, 20 years from now we'd be amazed at the technologies that software was using.
Then I wondered why football players were at a VC firm. Because they were investors in SoftTech. The money that Ronnie, his son, and the other players had hard-won on the gridiron was going on to fuel the dreams of entrepreneurs to build a better way to build software. I thanked Ronnie for his support of LaunchDarkly, and I hoped to return his trust in us. And in the meantime, as a down payment, he could have a LaunchDarkly t-shirt.
The first LaunchDarkly investors were literally myself and John, my-cofounder, putting our own money in. Then it was our colleagues who believed in us.  Even now that we have institutional investors, behind our institutions are still people, investing because they believe in us. Thanks Ronnie Lott, Malik Jackson, Duane Brown, and all the other investors in LaunchDarkly.